Having a newborn isn't easy. Along with all the responsibilities of having a newborn, the new parent is excited to interact and play with their baby.  How do you play with a newborn? They are only awake for short periods between eating and sleeping. All the parenting books say you should play, but no one knows how! I worked in daycare for nearly a decade and still didn't know what to do. The baby toys most parents and I were familiar with are for older ages, but not the Yoee Newborn Baby Toy.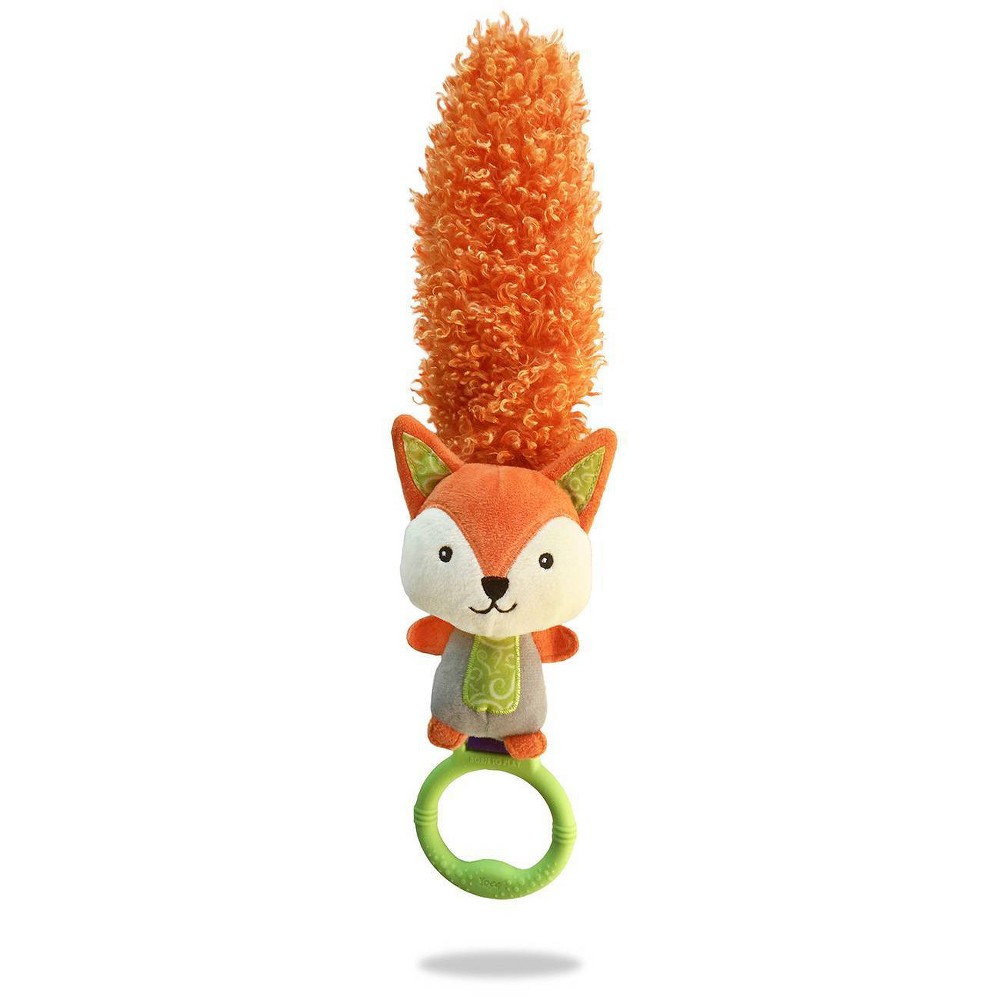 Age Appropriate
The Yoee Baby Newborn Toy is a fun, exciting toy that will last and entertain from 0 to 6 months. Made to last throughout infancy, the Yoee will follow your little one through many stages. When my daughter was two weeks old, she loved having the soft tail caress her face.  Three months old, she loved the crinkle sound and tracking with her eyes. Four months old, she wanted to cuddle! Your little one will have a new exciting toy every day with the Yoee as they grow.
Educational
As parents, we want more than entertainment from our children's toys and the Yoee delivers developmental encouragement. The rattle is auditory, the bright colors are visual, the crinkle encourages fine motor skills, and the tail is so plush and soft for tactile stimulation! For those early days, try to see if textures encourage playtime or if eye-tracking the movements do. My daughter had no interest in the teether until a week ago, and she is nearly 6 months.
Easy to Clean
Babies are very messy, and this plush, exciting toy attracts pets. Thankfully, the Yoee is machine washable! It has survived a few accidental rounds in the dryer, but I would suggest air drying it to keep the tail soft. For the silicone teether, soap and water or your favorite pacifier wipes will do the trick. For a soft toy with a feather-duster tail, thankfully it does not seem to pick up all the dog hair in my house.
Multiple Options
The Yoee comes in a variety of animals and colors. A personal favorite is the orange fox, which my husband and I have named Frederick. The fox far from the only option. A green monkey, a purple kitty, orange lion, and bright blue puppy are available to teach, love, and entertain your little one. Bright colors and different animals are all wonderful for visual stimulation!
Hefty Price Tag
My one con with the Yoee Baby Newborn Toy is that they are fairly expensive as baby toys go. Ranging from $17-$25, you are spending more than you will for some other toys. The price ranges on Target vary by the particular model you choose. If color or style do not concern you, then you could easily pay on the lower end and get all the exciting developmental advantages!
The Verdict
The Yoee Baby Newborn Toy's price tag is higher than most other toys, but it is worth every penny. Educational, fun, cute, and machine washable makes this toy a favorite for both parent and child. The Yoee Baby Newborn Toy is the best gift you can give!