Some would say dog lovers are a breed all their own. The kind of folks who invest the amount of time, energy, money, and dedication it requires to take good care of a dog (or two) certainly deserve a treat. This holiday season, spoil the dog enthusiasts in your life. Get them a unique and thoughtful gift that honors their adoration of all canine-kind, whether or not you happen to share their gusto. Here are the top 10 holiday gifts for dog lovers this year:
Waxed Canvas Waste Bag Dispenser
A fact of life when you're walking your dog is that poop happens. It makes it a bit less unpleasant to carry your disposal method in a cute bag with a classy, festive buffalo plaid patterned waste bag dispenser with shiny brass accents. There is even extra space for your keys or a training clicker.
Slim Personalized Water Bottle
The only thing better than bringing your dog with you when you have to leave home is bringing their likeness. A personalized water bottle with a picture of your pup-loving friend's dog on it is not only an accessory they can gaze at until they see Fido again – it's also a great way to attract other dog people.
Step Family Pet Portrait
If the dog lover in your life appreciates a good laugh, consider a funny gift like this hilarious customized awkward step-family pet portrait. Major bonus points if you manage to sneak it into the background of his or her Zoom meetings like one reviewer managed to do to her husband.
Climbing Rope Dog Leash
This black and yellow leash is stylish enough to get anyone up off the couch and strolling around town with their canine best friend. The rope is lightweight, soft on skin, and weather resistant. The brass O-ring comfortably holds waste disposal bags to free up hands and the bright yellow accents are eye-catching. 
No-Pull Harness
A harness may seem more like a gift for a dog than for its owner. But, it's actually one of the most helpful possible gifts for dog lovers whose dogs are pullers. Problems with pulling can be a major source of frustration, anxiety, and even injury for large dog owners. Gift your dog-loving friend or family member a no-pull harness that humanely ends pulling once and for all.
Custom Pet Pillow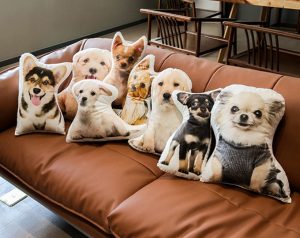 All you need is a photo to turn your loved one's dog into a handmade custom-shaped pet pillow. These make especially great gifts for kids, who will definitely want to take a soft, hypoallergenic version of their doggo with them to their next sleepover.
Deodorizing Candle
Even the most hardcore dog fans usually don't love the smells that come along with them. Preventing dog odors from taking over a house is hard work. A pet odor-eliminating candle is a gift that allows them to take a break. Just light a welcoming candle next time someone drops by.
Personalized Engraved Pet Portrait Bracelet 
A beautiful handmade custom portrait bracelet is an excellent way for a dog parent to keep their babies close to them at all times. An image of your loved one's dog and their name will be engraved onto a dainty gold, rose gold, or silver bangle. This can be worn with any attire.
Hardwood Trinket Tray
Every adorable dog-themed jewelry piece needs an equally lovely trinket tray as a resting place. This one is carved from solid hardwood and food-safe. The type of hardwood and the breed of dog can both be customized upon request.
Personalized Sherpa Fleece Blanket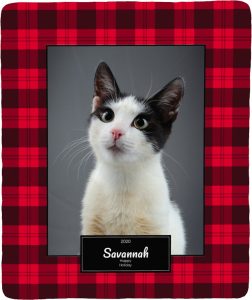 The only thing more cozy than snuggling with an actual dog is this super soft personalized sherpa blanket with your beloved dog lover's best friend depicted on it. Add the pet in question to the cuddle pile to experience pup-ception. 
By A.R. Hopkins