When we hang our stockings on the fireplace this holiday season it comes as no surprise that there will be stocking for Fido and Whiskers too. Families everywhere will remember to tuck a few treats under the tree for our furry family members.  We have some good news for the pet lovers among us. We've compiled a list of some of the coolest finds this season to give Spot and Fluffy the best holiday yet. Here are 9 Holiday Gift Ideas for your Furry Family Members.
Collar Bling
While you're gearing up for your matching family photo, don't forget to deck out your dog in his matching buffalo plaid. Check out these sweet collar adornments from Bark Tie Affair. They create handmade bows for all your furry friends which help your pet express their unique "pawsonality".  You can even ask the shop owner to create you your own custom design if you're searching for the perfect pattern or color. Your Christmas cards will stand out from the card when your pup looks so dashing.
Matching Pajamas
If formal dog attire isn't your thing, you're probably in need of matching doggie PJs instead. These "ugly Christmas sweater" printed jammies are just the ticket to get you and your pup into the holiday spirit. What could be cozier than cuddling up on Christmas eve when you look this cute?
This is Online Mom's favorite of the Gift Ideas for your Furry Family Members.
Doggie Dishes
Holiday meals aren't complete without setting the perfect tablescape. Don't leave your pet out of the festivities with their boring old dishware. They will appreciate the style and sophistication of a personalized, raised dog or cat bowl.  Aside from being a pretty part of household decor, feeding your pet out of a raised bowl helps your pet eat and drink with ease.
Fido's Own Ornament
Decorating the tree as a family is always more fun when everyone has their own special ornaments. If you typically get the children in your family new ornaments annually, it's time to start the same tradition for your dog or cat. You can order a custom 2020 ornament for your pet too! These personalized stockings are the perfect addition to your tree and can be personalized with your pet's name.
Puppy Popcorn
If everyone is settled in for a holiday movie night you can microwave a bag of Yaky treats for your pup to enjoy so you don't have to share your popcorn with them. Made in the USA, these treats resemble cheese puffs after a few seconds in the microwave, just make sure you let them cool a little before letting your pet dig in.
Chewy Treats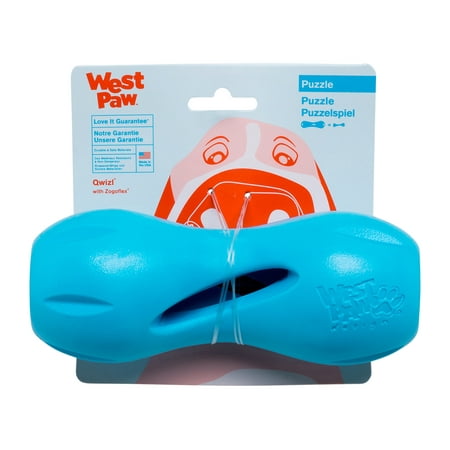 If you need to occupy your pet while you entertain your holiday guests you'll want a toy which will capture your pet's attention but is also safe and fun to chew.  West Paw's doggy puzzle will keep Fido busy while you're mixing up the eggnog.
7. Another interactive toy option is this cool, treat-dispensing ball. Because really, the holidays are all about treats after all.
Christmas Cookies
Speaking of treats; your four-legged friends shouldn't be left out of the fun on this one either. Order them their own set of decorated biscuits so they can feel like they are one of the gang.
Or, consider making your own with a Christmas dog biscuit mix.  You'll likely need to order them their own dog-shaped cookie cutters, or this one, of the mailman. 
Not shopping for your pet? If your hard to buy for family members are the two-legged kinds, you should check out our other gift guides. Try our Top 10 Educational Toys for Toddlers, or maybe our 10 Board Game ideas for a fun family night. 
Thanks for checking out these Gift Ideas for your Furry Family Members.