Having long hair can be a blessing, but for the state of your shower drain, it's definitely a curse. Hair will clog up that drain like nothing else, which means that you're constantly cleaning it. It's a hard, gross chore to do and it can be pretty time-consuming. I have good news for you folks: I recently found a product that totally removed this problem from my life, and you're going to want in on it.
The TubShroom is the Cure to Your Shower Drain Woes
Yup, that's right. The answer to your problem is called the TubShroom, and it's available at Walmart for only $12.99. (You even get to pick between six different colors!) I was doubtful at first, but who am I to argue with all the good reviews? When the package came, I plugged it into my shower drain and waited a couple of weeks. When I pulled it out, I was amazed at the clump of hair that came with it. It was easy to pull out that gross blob and toss it, and then I shoved the TubShroom back into the drain. It was so easy, and I didn't have to spend any time rooting around in the drain to get at all the hair. My drain worked perfectly the whole time I had the TubShroom in; it wasn't clogged at all.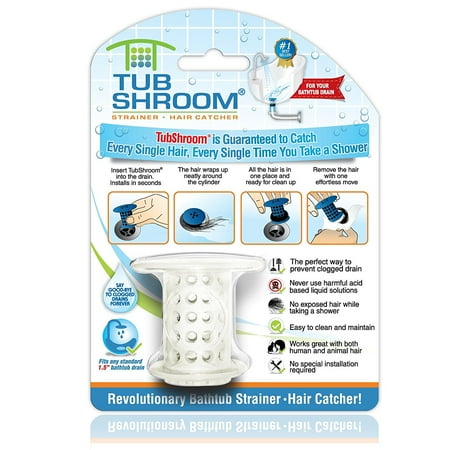 Why Should You Buy a TubShroom?
If you're not convinced yet, here are five reasons why the TubShroom is a great buy:
It has so many reviews. The masses are behind this one! When thousands of people agree on how great a product is, there must be something to it, right?
It's easy to use. It's one of the simplest products out there; cleaning it and sticking it in your drain takes two minutes.
It's cheap. At less than $13, it's a great bargain.
It means one less chemical cleaner, and it may even save you a plumber visit. Don't spend any more money on awful industrial cleaning fluids and expensive plumbers to fix your drains. Let the TubShroom do the work for you.
It'll fit any standard drain. The TubShroom fits any drain from 1.5″ to 1.75″, so it'll probably fit your drain, too!
Save yourself money, time, and energy by winning the battle against your shower drain. Buy a TubShroom at Walmart today. If There's Always Hair in Your Shower Drain, This Product is For You!