Being diagnosed gluten-intolerant doesn't have to be the end of the world — not when there are so many substitutes available!
I know what you're thinking. The quality of substitutes varies wildly, the taste just isn't there, etc. I get it. That's why we turned to Amazon to comb user reviews so you can find out which Gluten-Free Pasta substitutes hold up, saving your time and headache. Here's what the people are saying!
Barilla Gluten Free
YouTube
You'll probably recognize the Barilla brand from your local grocer, so it may not come as a surprise that they've introduced a whole line of gluten-free pasta. Pick your favorite here: penne, rotini, linguine, elbows, spaghetti, fettuccine, lasagna and more – they've got all you gluten-free pasta lovers covered!
This healthy alternative blend of rice and corn just might be enough to fool the kids of its wheat counterparts. Ranking it at 4.7 stars on Amazon, it's not the most popular, but likely to be the most readily available at your closest grocery store.
Le Veneziane
Amazon
Amazon favorite, La Veneziane, ranks in with a perfect five stars across the board. This pasta made with 100% Italian corn is no doubt an Italian favorite, but thanks to Amazon, the rest of the world can get their hands on it easily, too.
You'll find just about any pasta choice you're after, making this an easy pick for any pasta lover looking for a gluten-free alternative to their favorite dishes. Four grams of protein and 1 gram of fiber per serving keep this corn pasta's ranking high in the health category, too!
One Amazon reviewer said, "This is not just a good gluten-free pasta, it's good pasta, period. It tastes like regular pasta to us, and those tiny little circles hold up to cooking and reheating exceptionally well."
Garofalo Gluten-Free Pasta

Free From Heaven
Another Italian brand making a name for itself in the gluten-free pasta department is Garofalo. Made from a blend of corn, rice, and quinoa, this gluten- and wheat-free penne rigate gets 4.5 golden stars from Amazon users.
They claim to make their products that help users "give up gluten without compromising on flavor" and provide a variety of pasta options such as casarecce, linguine, and spaghetti, so you don't have to compromise your favorite dishes, either!
Take it from this Amazon reviewer who said, "Having been gluten free/wheat free for 24 years, I have tried it all. This is by far the closest to 'real Italian pasta' I have had."
Ronzoni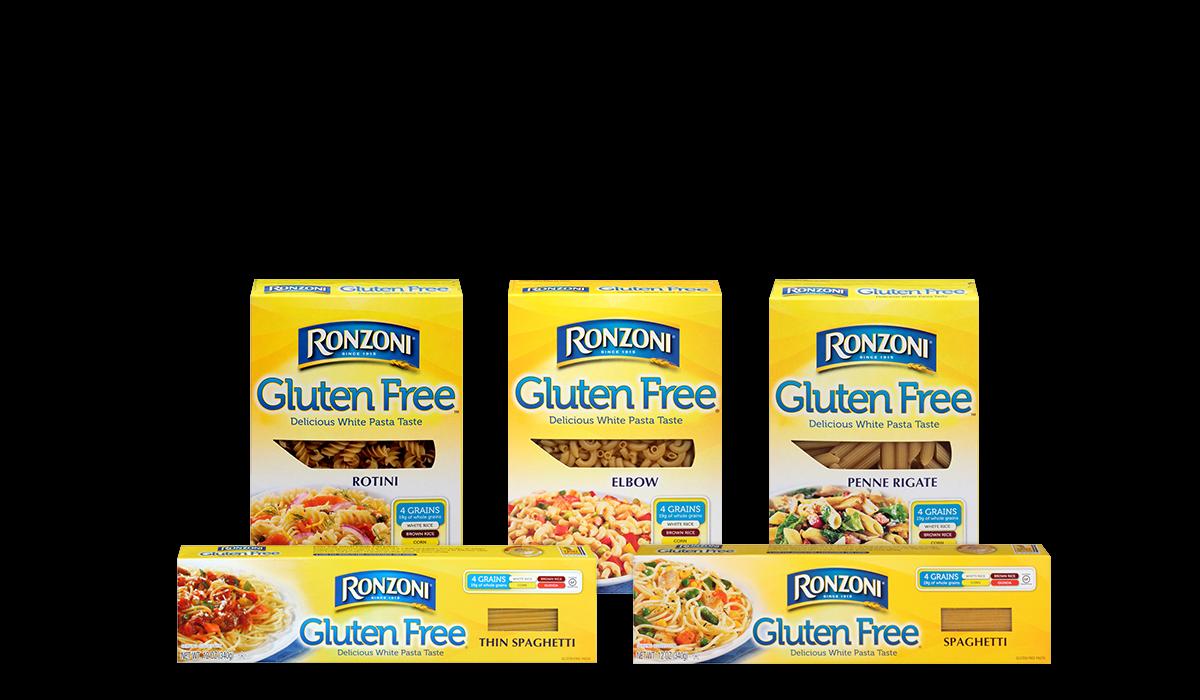 Ronzoni
Ronzoni is another popular brand you've likely seen at your local grocer. Their gluten-free pasta is comprised of a blend of white rice, brown rice, corn, and quinoa. With a healthy mix of delicious multigrains, it's no surprise that each serving offers 4 grams of protein and 2 grams of fiber, while still winning a taste test from any pasta lover.
Find your favorite type of pasta on Amazon so you can keep busy in the kitchen whipping up all of your delicate creations. Take the word of the Amazon reviewer who said, "This is one of those substitutes that you can't tell is a substitute."
Jovial Gluten-Free Pasta

Twitter
This popular USDA-certified organic brand has mastered their gluten-free pasta over the last 44 years. Like the others, Jovial offers a wide variety of pasta selections, with fusilli ranking in the highest. Made from 100% organic whole grain rice, they boast an award-winning taste and texture making it an easy substitute to your favorite non-gluten counterparts.
With 5 grams of protein and 2 grams of fiber per serving, you can rest assured you're getting the most bang for the buck with this healthy, delicious pasta alternative!